Nag Tibba (Uttarakhand) trek diary part 1 of 3
Holi this year in Mussoorie had a touch of a special colour – white. This unexpected snowfall left both tourists and locals cheerful and happy. However, this cheer quickly vanished the next morning when most tourists found that their cars couldn't make it up the icy roads. It took me two hours to cajole and bully these cars out of my way to make it to Kempty Falls from Mussoorie and then on to Nainbagh.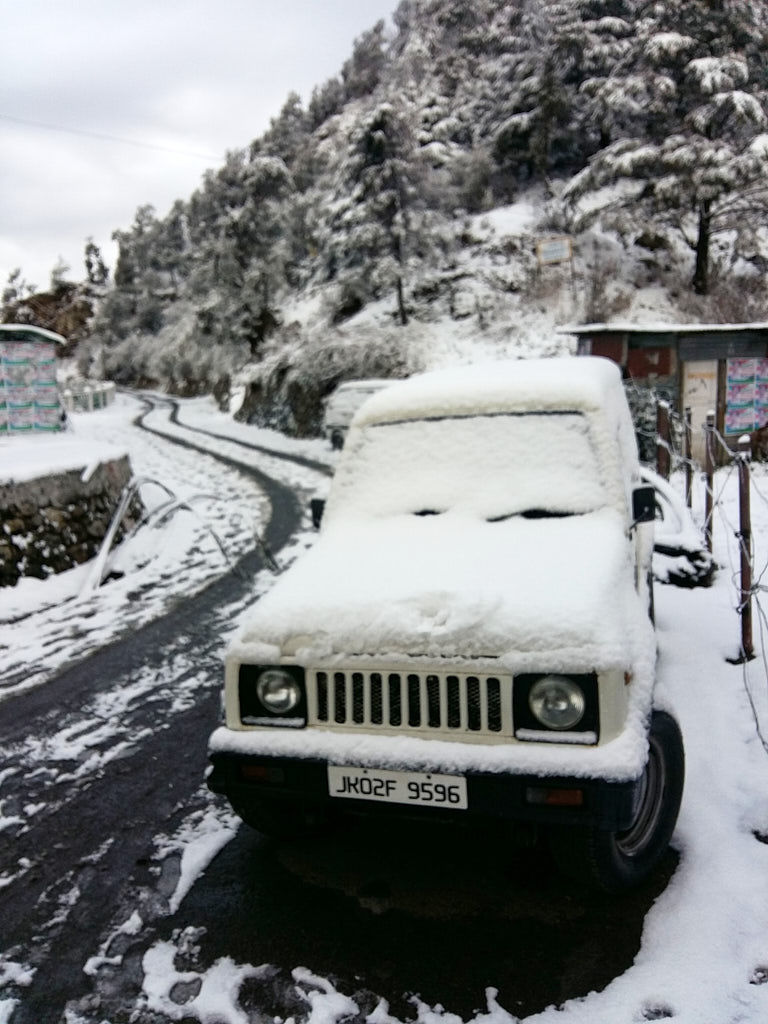 A white Holi at Mussoorie
Table Of Contents
To Pantwari
As with all stories, let us start from the beginning…on the road to Pantwari
Pantwari is a village on the Nainbagh-Uttarkashi State-Highway 6 that acts as the gateway to Nag Tibba. This single-lane State Highway from Nainbagh is a pretty sight in March. The fresh tarmac winds its way along villages decked with apricot trees and white wild flowers that start to bloom in March.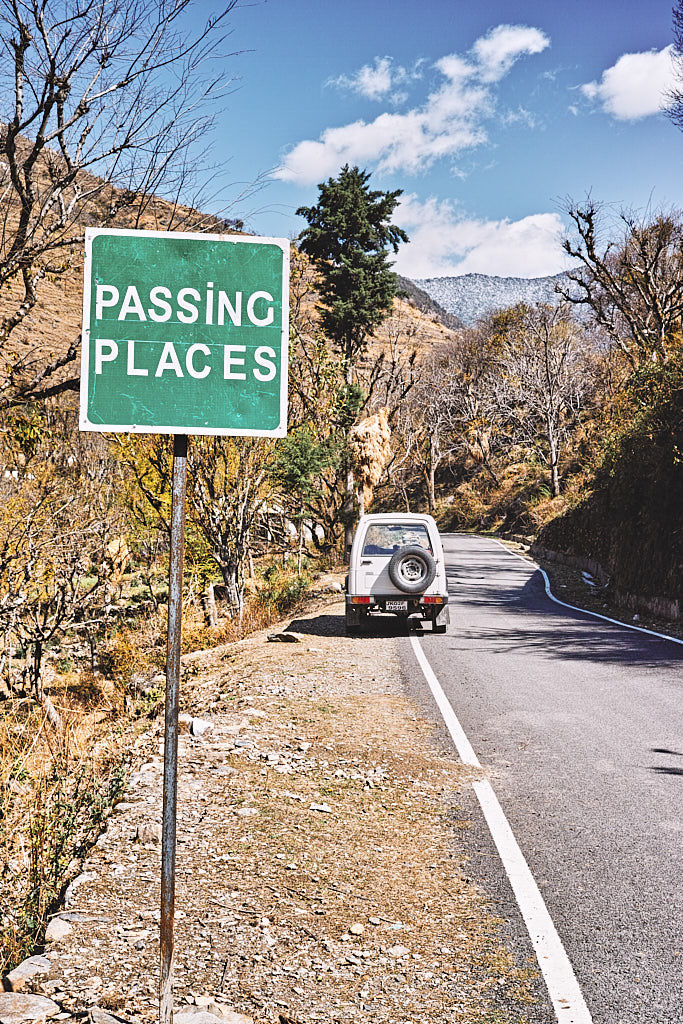 Passing places, not to be passed by
Pantwari is a bigger village than I'd visualised. The state highway bisects its main bazaar, which in itself is a healthy amalgamation of old-world shops and new businesses. The bazaar has a "bhojanalya" (restaurant), rooms to rent and a Bank. It has a sense of purpose and a boom town look. What immediately caught my attention was a disproportionately large number of parked "Tempo Travellers" advertising their trekking affiliations. Indiahikes, GIO and other trekking agencies were out in full force. As I parked along these vehicles, a group of tired trekkers plodded towards these vehicles. I asked one of the girls from the group and she told me that they had camped at "base camp" as there was too much snow to make it to the top.
"Maybe I underestimated the difficulty of this seemingly easy trek, wouldn't be the first time" — I thought to myself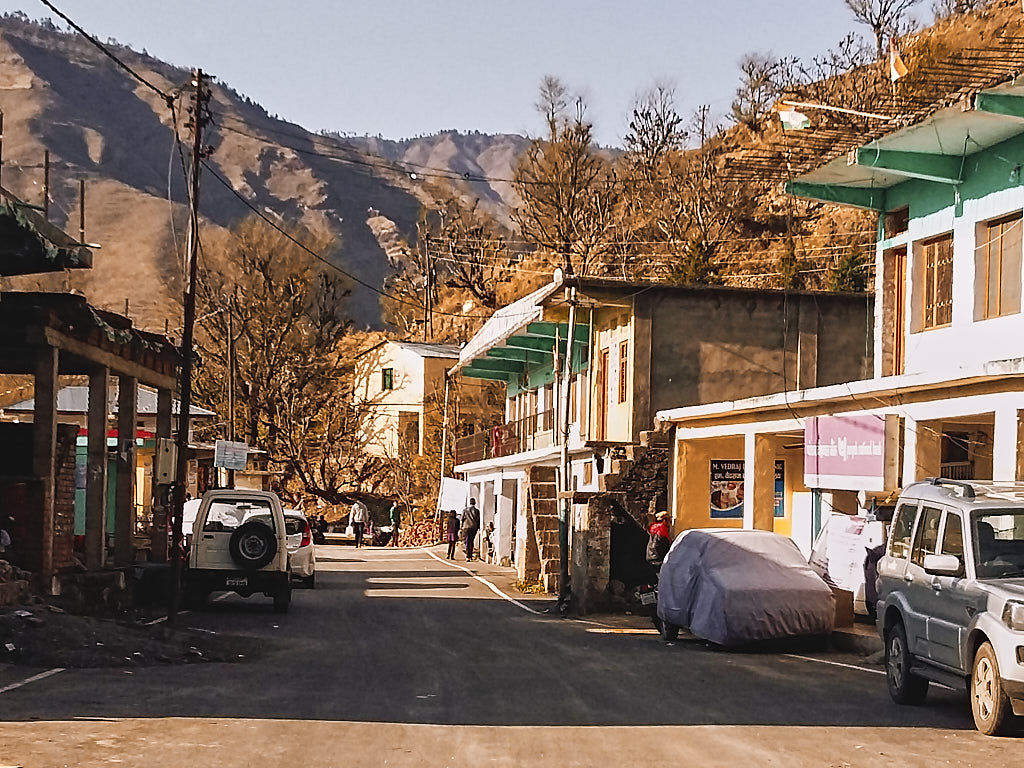 Pantwari main street with shops on both sides, that's me parked right there
At Pantwari
The residents at Pantwari are an easy-going lot. Likeable and impressionable, they were only too happy to take me under their wing. I spent the day discussing the impact of trek popularity and large trekking agencies on Pantwari's economy and social life. However, the story is the same as what I'd heard at Har Ki Doon and Dayara Bugyal and a few other places in Uttarakhand.
Locals vs Trekking Agencies
Large trekking agencies prefer to ferry their guides, gear and customers to trailhead villages. Generally, these agencies also avoid putting customers at local lodges or homestays. This decision further reduces any ancillary income that locals may derive from tourists. Thus, most of these large trekking agencies have no stake or incentive to help or improve conditions in these villages. We're a nation where social responsibility has to be enforced on corporates and we've not yet reached a level of maturity where corporates will do it out of their free will.
Local guides and porters are unable to compete with the bigger trekking agencies, primarily because they are not tech-savvy, have no online presence and cannot match these agencies' marketing budget. These locals are usually recommended by word of mouth or over forums and WhatsApp groups. This reduces their prospective markets and clients.
On the flipside, India is an extremely cost-sensitive market and popular treks are extremely price-competitive. Therefore as a business, trekking agencies will try and economise the best they can. In addition to this local people are often unreliable and unprofessional. Lack of education and professional training is also a drawback. To maintain their business standards, the trek companies have to make sure that they ferry mission-critical gear and people along with them. Moreover, these businesses contend that they pay taxes to the government and it is the government's responsibility to fix social issues rather than the corporate's.
Nevertheless, this cyclic blame game needs to be broken at some point. It is not an easy problem to fix and the fault lies on both sides. Yet this resentment needs a solution, lest it reaches a boiling point. An "ALTOA vs IndiaHikes" like situation in Uttarakhand will be detrimental to trekkers.
Patharkhol
I spent most of the afternoon photographing the terraced fields to the West of Pantwari village. A small stream runs through these fields and in March they were decked in early spring greens and yellow. These colours made a splendid contrast to the treeless, Spiti-like hills to the North and West.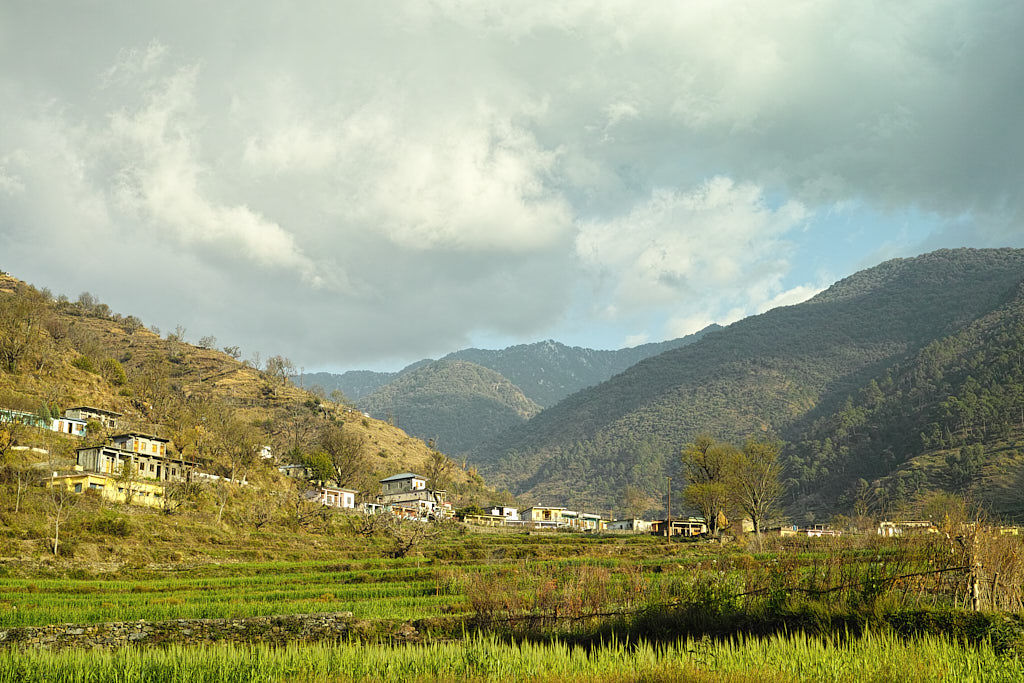 Lush green fields near Pantwari
That evening a few of us decide to visit the Dulleshwar Maharaj temple at Patharkhol. If you enjoyed the drive to Pantwari, you will fall in love with the route to Patharkhol. The road is even less crowded, the scenery prettier and there's no better place to watch the sunset over Pantwari than the road to Patharkhol.
"Dulleshwar Maharaj is the local devata (deity) at Patharkhol. Every hunter in the area pays obeisance to Dulleshwar Maharaj for a successful hunting expedition."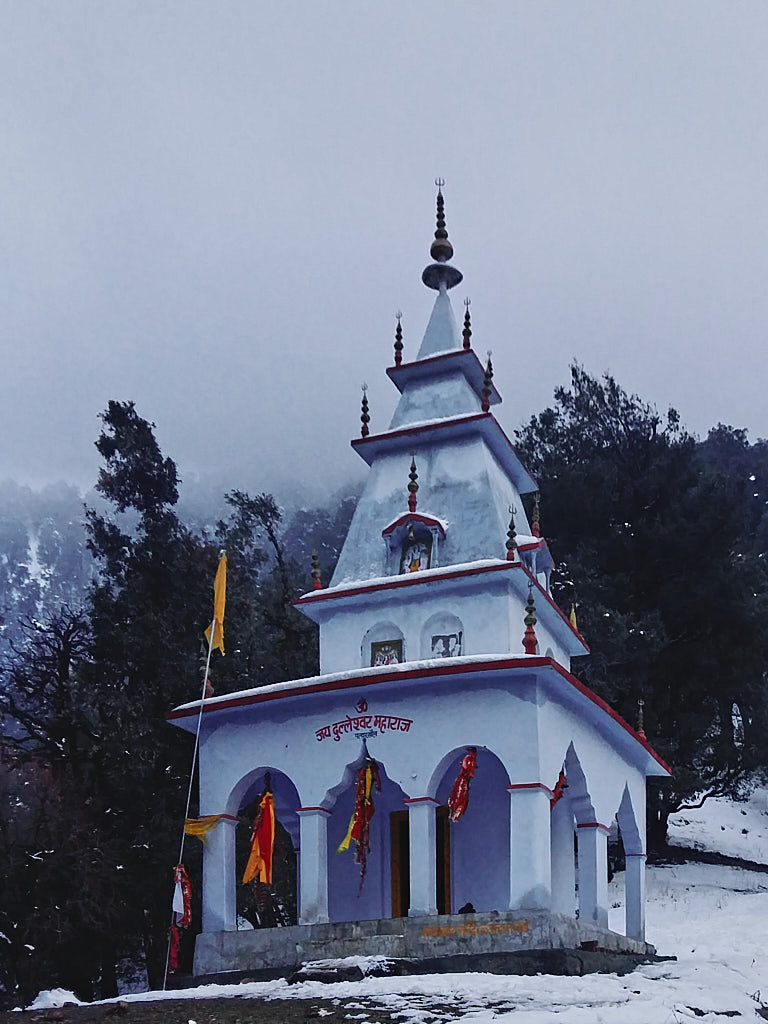 Dulleshwar Maharaj temple at Patharkhol
Back at Pantwari Village
Finally late that evening it was time for me to make my bed in the back of my Gypsy. However, the villagers would have none of it. I was packed along in a local tailor's home where I was provided with the best local food including roti made of Mandua ka atta (Finger Millet flour) and Kulath Ki Dal (Horsegram) with dollops of Desi Ghee (cow's milk fat) to fortify me against the cold weather trek. I will never forget the love and affection these simple people have bestowed on me and it makes me feel like an honorary Pantwari citizen.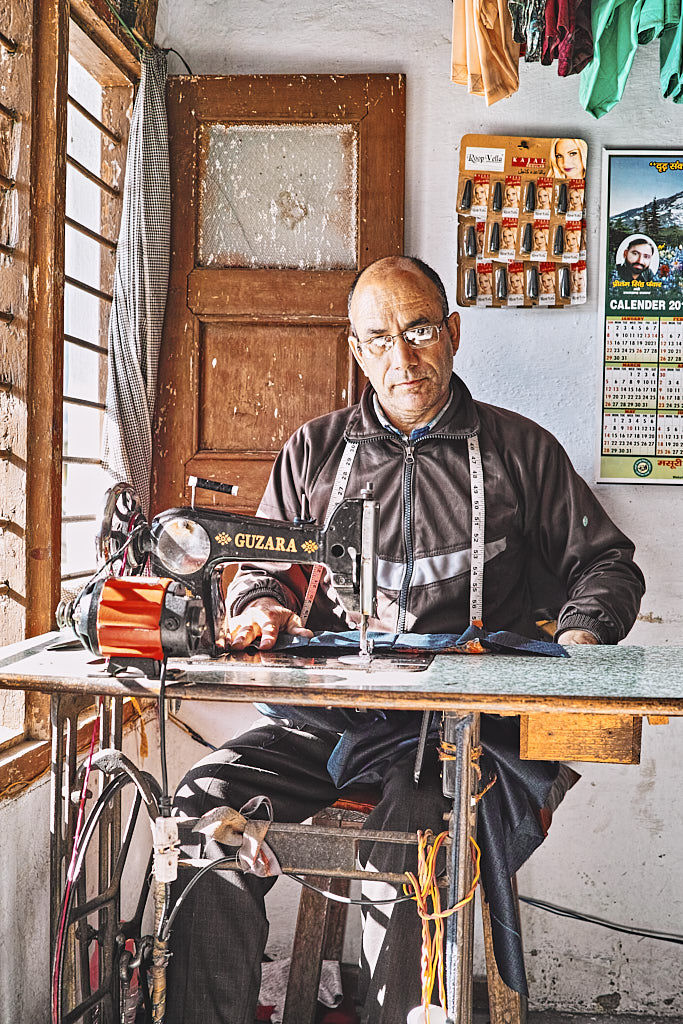 Locals at Pantwari are a lovable lot and I was immediately taken under their wing
Related
[Trek with me to Nag Tibba as we explore the politics, flora and fauna for Pantwari-Nag Tibba belt. We also meet Gaddis along the trail and learn about their lives in part 2]({% post_url 2017-04-26-Nag-Tibba-Trek-Diary-Part-2 %}).
[Trek tips for Nag Tibba with GPS maps]({% post_url 2017-04-30-Pantwari-To-Nag-Tibba-Trek %})